Norca Air Blower Cleaner Set
Norca Air Blower Cleaner Set Air conditioner fan cleaning kit To allow cleaning the fan blade Or cold stall easily, more convenient and cleaner.
Applications :

Turn off air-conditioner , fit Norca bag securely around it
Spray clean water thoroughly on blower
Shake Norca air Blower Cleaner, spray foam thoroughly on blower
Leave for 30 minutes , Let Norca foam clean out dust and dirt
Spray clean water thoroughly on blower again to rinse
Leave for 30 minutes before turn on air-conditioner
How to use Norca Air Cleaner Bag.
Unfold the Air Norga bag. Adjust the hose to suit the air conditioner size.
Click the Air Norca wash bag. By placing the bag as close to the wall as possible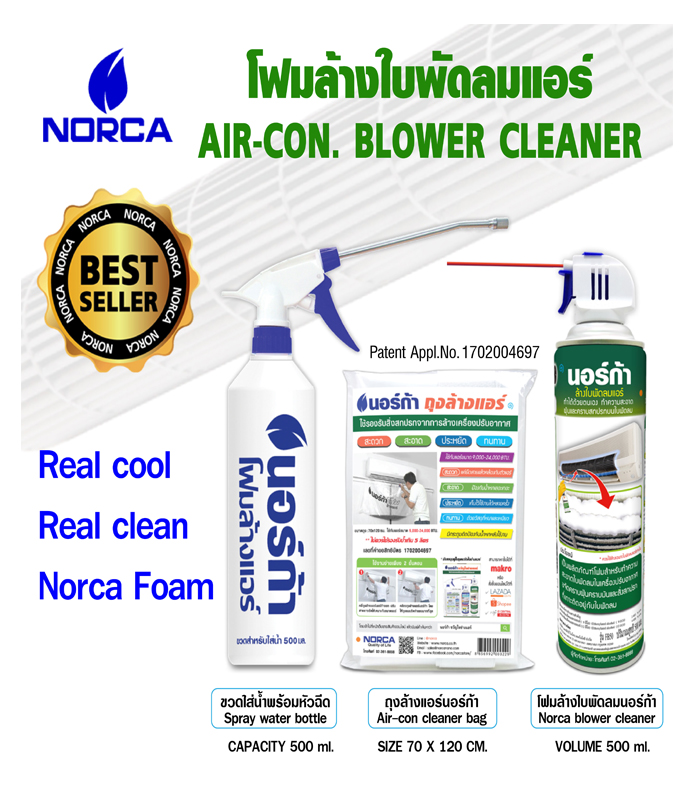 Storage, warnings and precautions.
Storage : Store in a cool, dry and well-ventilated place away from children, pet food, flame and heat.
Cautions :
DO NOT EAT
Flammable Product
Keep away from direct sun light
Do not expose top temperature exceeding
Do not pierce or burn container
Keep out of reach of chidren, away form and food.
Basic poisoning :
If skin contact Rinse with plenty of clean water. If you stain your clothes Immediately remove and wash the body with soap and water every time.
If in eyes, immediately wash with clean water until irritation relief If not relief, see a doctor
If poisoned by inhalation Immediately take the patient from that area to a ventilated area.
If swallowed, do not induce vomiting To drink plenty of water or milk Then immediately send to a doctor along with a container or label Norca Foam.